3 year carefree warranty
We give you a 3-year warranty on all safety-related things, such as the frame. The fabrics are covered by the warranty for up to 12 months. Contact our carefree service in the event of damage.
Test for 30 days
Order your stroller in our online shop and test it free of charge in your home for 30 days. Contact our carefree service and we will pick up the stroller at your home if you wish.
Made with in EU
We receive our selected fabrics from Italy and our production is in Europe. Our seamstresses have been sewing the fabrics for you there for years. The design and the technology come from our headquarters in Germany.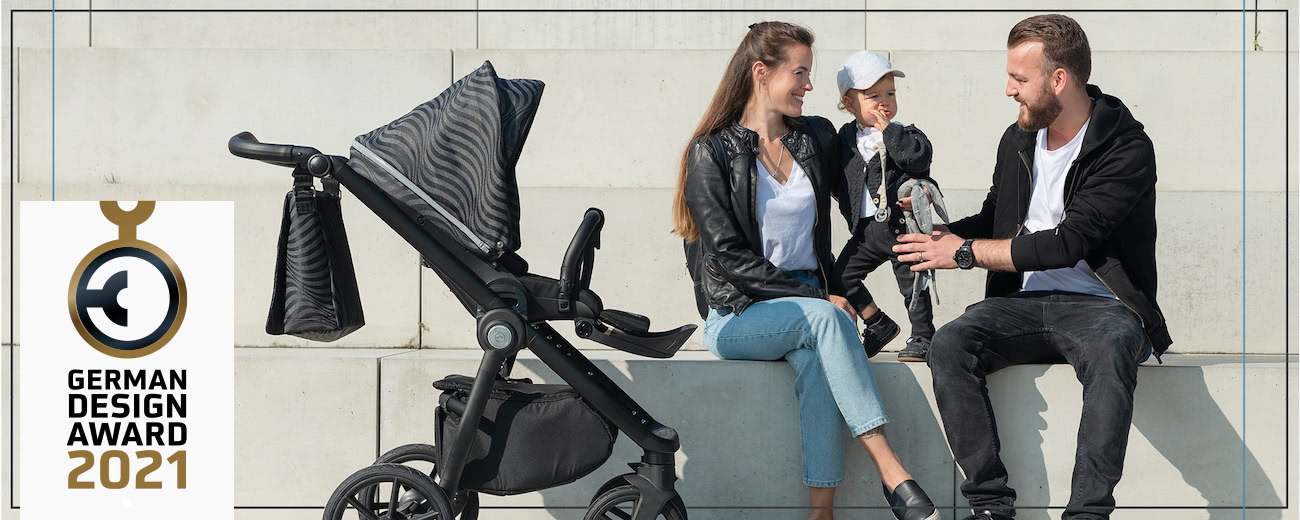 Design meets wellbeing

The health of your heart is as important to your stroller as it is to you. Up to the age of 4, its functions ensure wellbeing for the both of you. The peep window on the carrycot ensures optimal air circulation and sweet baby dreams. The sports seat with a straight lying surface and angle-adjustable footrest guarantees perfect ergonomics. Your heart feels secure on the covers made of GOTS-certified cotton and the small back is optimally supported at all times without your heart being restricted in freedom of movement.
No limits in everyday life

This love is not common - but you experience it every day. Your Vita Hope stroller accompanies you and your heart through everyday life in an uncomplicated, safe and innovative way. With the unique one-hand folding mechanism, it can be folded quickly and compactly. If you put your heart in the sports seat of the combi stroller, the patented belt buckle is magnetically connected. It is sealed with the specially developed closure and can only be removed by an adult.
The goal in mind - driving comfort

This stroller guarantees driving pleasure for every walk. In contrast to conventional tires, the air chamber tires specially developed for outdoor rides can never burst. You don't have to inflate them and worry about sharp objects or strong sunlight. The optimal suspension ensures the perfect interplay, because your heart carrier has a four-wheel drive and has an integrated power steering.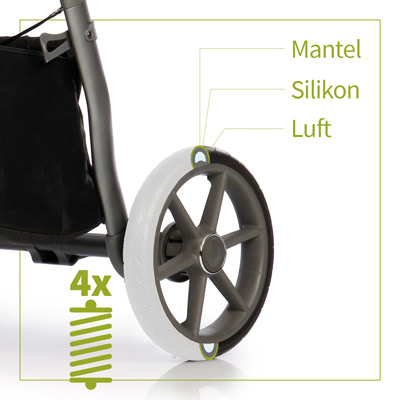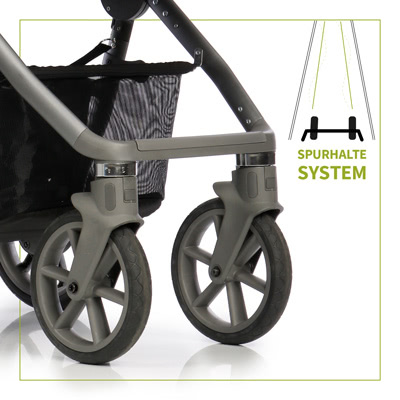 More functions at a glance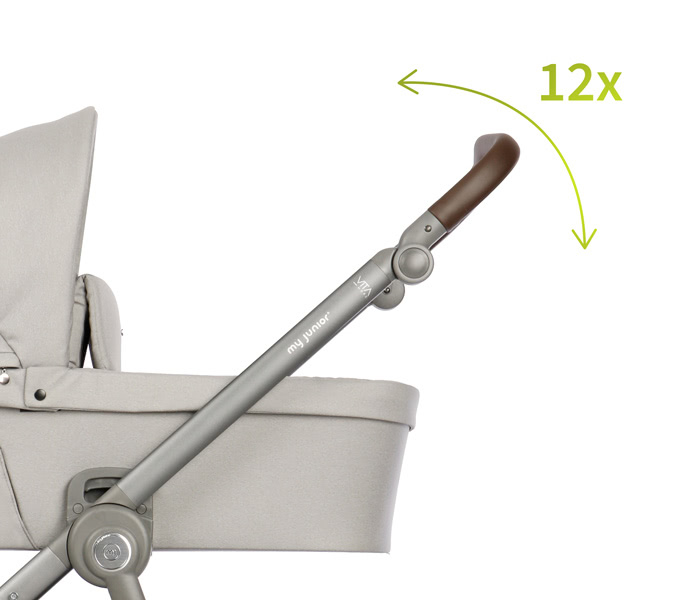 Coordinated with each other
The handle of your stroller is height adjustable. That way, mom and dad's back is protected and the heart carrier is individually adapted to his or her companion.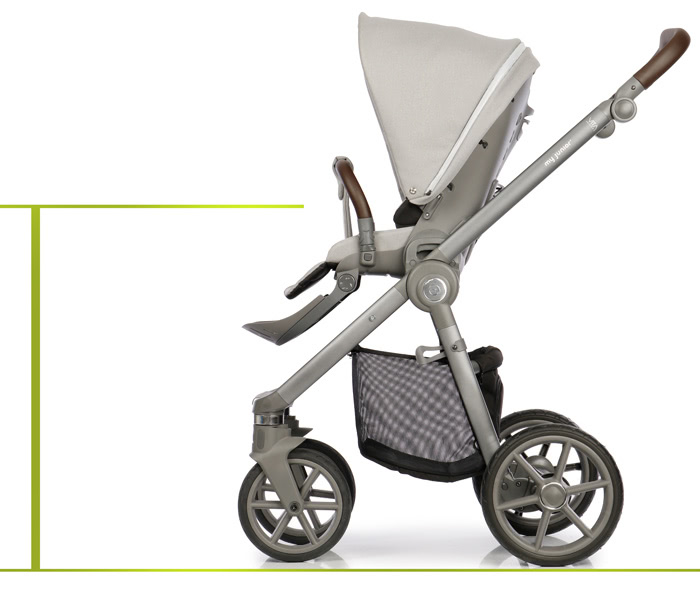 Comfort at table edge height
Whether in a café or on a short break, your pram at table edge height is simply practical. There is no need for a high chair.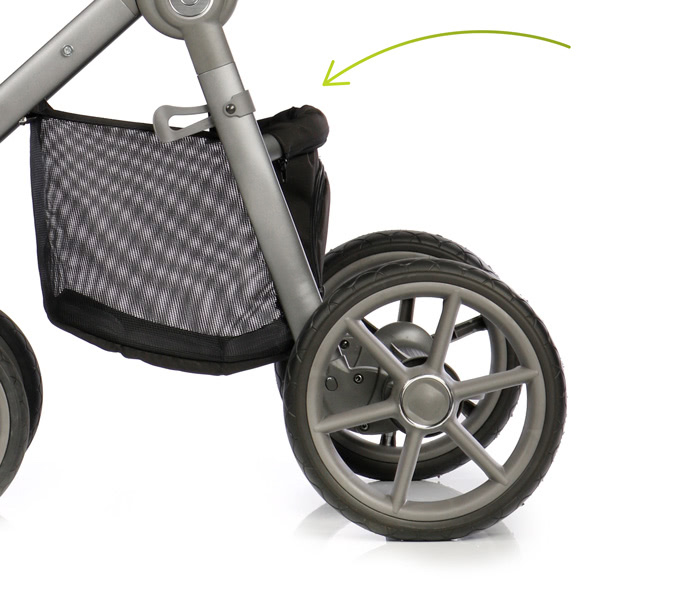 With enough scope
The shopping basket of the stroller is open on the top and on the side and offers enough space for shopping and everything you always want to have at hand in everyday baby life.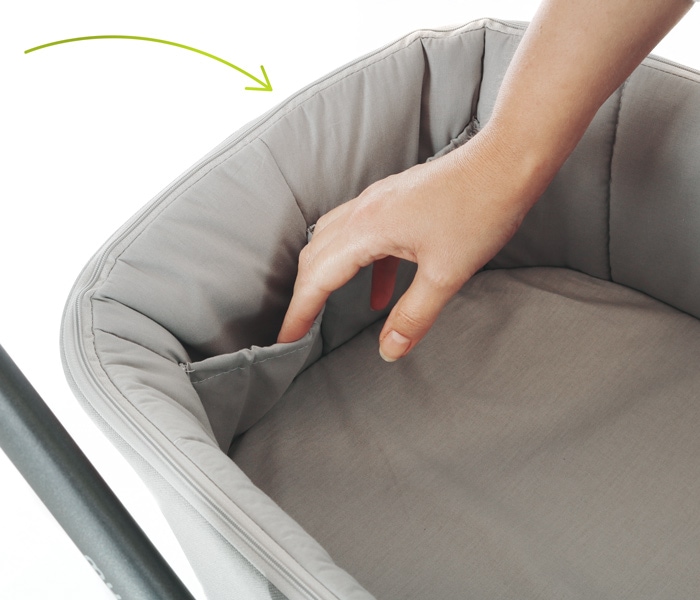 handling comfort
There are small compartments on the cover of the stroller and inside the carrycot for storing bottles, pacifiers and other things.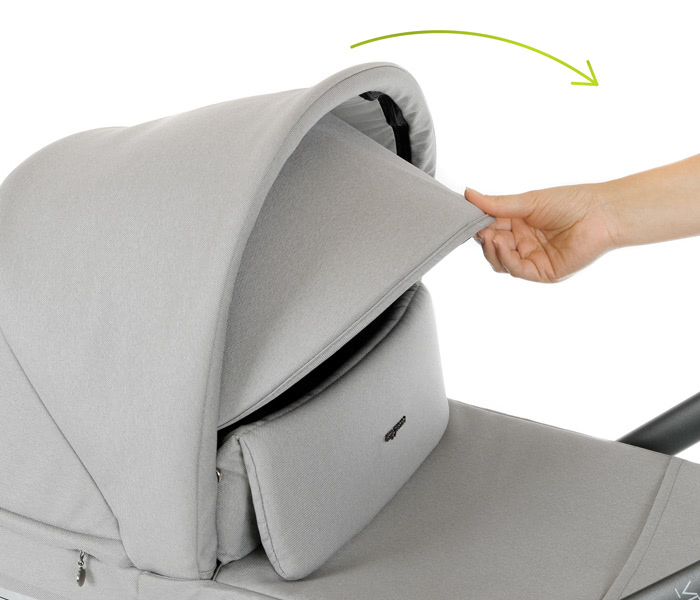 loving and protective
Your heart is optimally protected in the Vita Hope - no matter whether sun or wind, we guarantee a restful sleep and sweet baby dreams in the combi stroller.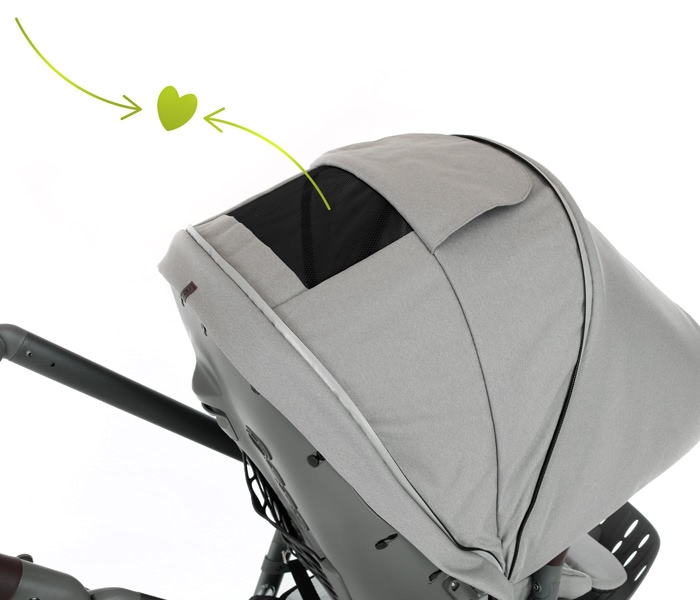 A well-coordinated team
We have integrated a peep window in the top of the sports attachment, which you can open at any time. So you always have a view of your heart in the stroller while discovering the world.
user oriented
We have attached an additional storage compartment for you on the back of the sports attachment of your combi stroller. So you have the most important things at hand quickly.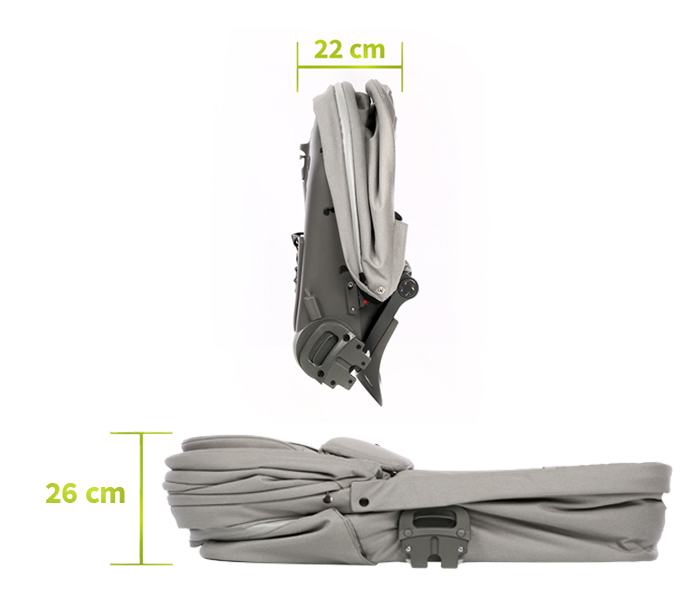 compact and practical
When folded, the sports seat is only 22cm wide and the carrycot of your stroller is only 26cm high. They can be stowed away in the smallest trunk or in the apartment to save space.
Safety
Strong in charakter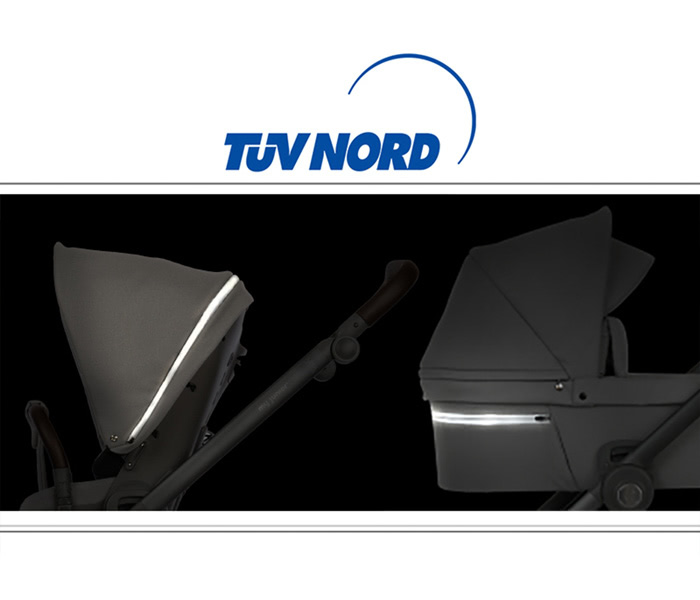 The safety of your heart is our top priority at all times - this is also confirmed by TÜV Nord. With the reflectors on the carrycot and sports seat, the ergonomic seat and the integrated power steering, your combi stroller uses the latest pushchair technology to protect you and your heart anytime and anywhere.
Certified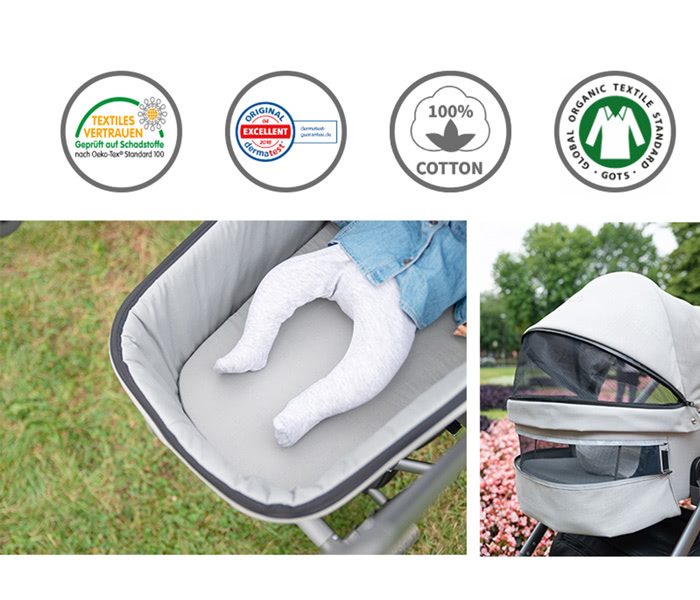 In the VITA Hope combi stroller, your heart lies as if on clouds. All interior materials that come into contact with it are free of harmful substances and consist of organically grown cotton. The special quality of the fabrics used is certified and confirmed by Ökotex, Dermatest and even GOTS.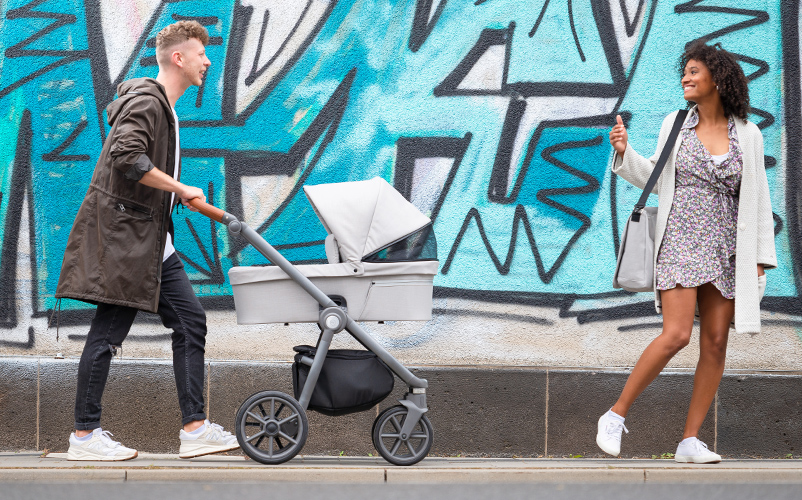 Your carefree package
included in the 2in1 package:
A frame with a shopping basket
A carrycot with a cover
A sport seat with wind protection
Diaper bag
Rain protection (carrycot and sport seat)
Mosquito net (carrycot)
Sun visor for the canopy
Included in the 3in1 package:
Safee Adapter My Connect
Baby car seat incl. wind protection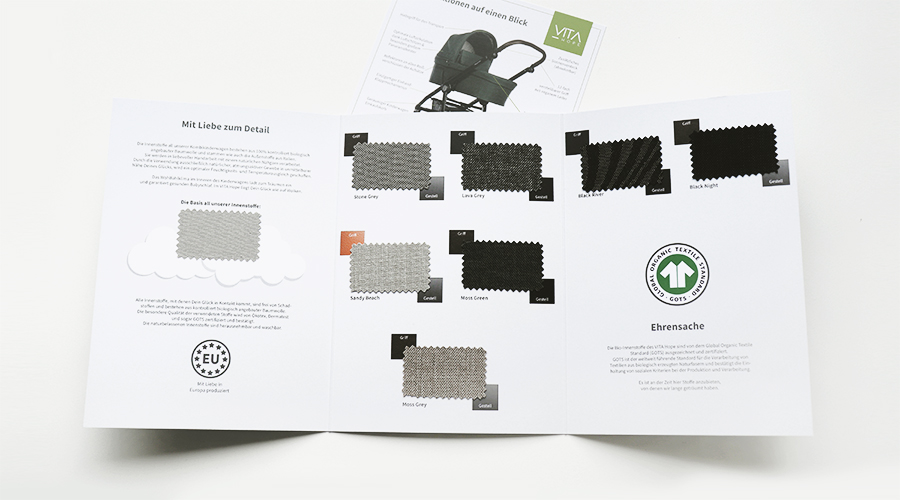 Deine Stoffmuster
Verliebt? Jetzt bleibt nur noch die Wahl der perfekten Farbe für Dich und Dein Glück. Mit unserem Lookbook bringen wir Dir alle möglichen Farbtöne Deines Kinderwagens und ihre besondere Haptik zu Dir nach Hause und Du kannst Dich ganz in Ruhe entscheiden. Die Glücksgefühle sind unterwegs zu Dir.
Hier VITA HOPE Muster entdecken
Functional design in detail
Click on a component of your heart carrier for more information
Frame
Very light and compact Aluminium stroller frame
For combi strollers, unique one-hand folding mechanism
Optimized all-wheel 4-way suspension
Comfortable wrist strap for carrying when folded
Lockable front tires
Removable and maintenance-free air chamber tires with innovative silicone technology
Safe combi-stroller parking brake
Spacious stroller shopping basket
Very simple and stable stroller click system of the attachments
Height-adjustable stroller handle in 12 levels
Incl. matching diaper bag with many storage compartments
Power steering and lane keeping system for maximum driving comfort
All attachments at table edge height
Reflectors on all tops
Combi stroller tops are UV 50+ protected, dirt and water repellent
Reviews
---
Super schnell und einfach geklapptg
---
Super Kinderwagen und sehr einfach zu benutzen!!!
---
schönes Design, solide Technik
---
Sehr durchdachter und hochwertiger Kinderwagen