3 year carefree warranty
We give you a 3-year warranty on all safety-related things, such as the frame. The fabrics are covered by the warranty for up to 12 months. Contact our carefree service in the event of damage.
Test for 30 days
Order your stroller in our online shop and test it free of charge in your home for 30 days. Contact our carefree service and we will pick up the stroller at your home if you wish.
Made with in EU
We receive our selected fabrics from Italy and our production is in Europe. Our seamstresses have been sewing the fabrics for you there for years. The design and the technology come from our headquarters in Germany.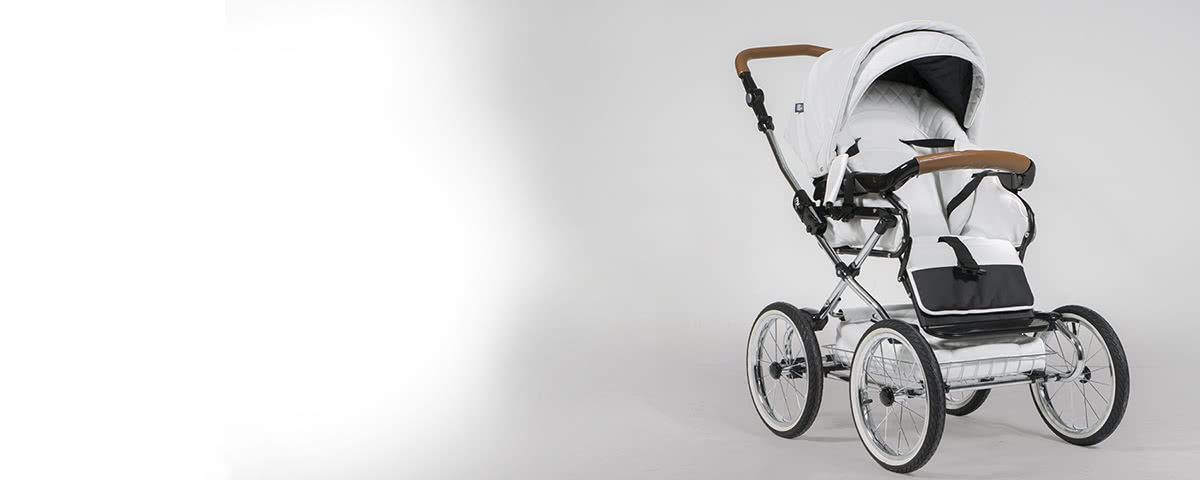 Classic. Modern. Timeless.
The My Junior Sienna is the chic one among the multi-purpose strollers. With its elegant retro design, it is an eye-catcher, no matter where you and your heart appear. With its high-quality workmanship and stable frame, the My Junior Sienna is a reliable companion at your side. Despite the stylish and classic design of this combi stroller, its technology is state of the art. Its suspension has been adapted to today's needs, so that the My Junior Sienna can also be used perfectly in everyday life. The My Junior Sienna has earned its name as the elegant one and thus bridges the gap between classic design and the latest technology.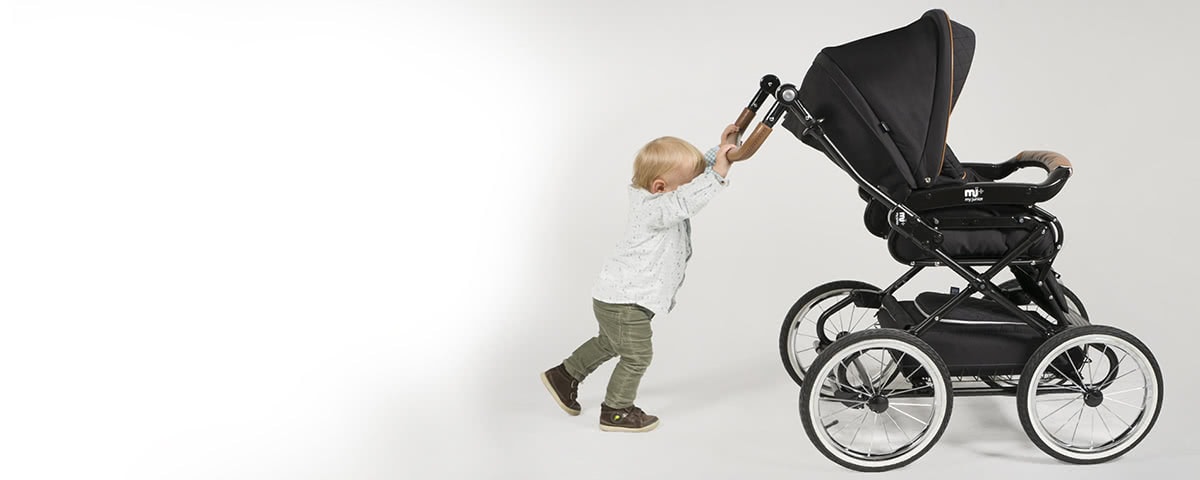 Easy to drive
Our chic combi stroller offers pure driving pleasure not only because of its appearance. The adjustable handle of the My Junior Sienna adapts optimally to your size and can be comfortably steered by you. In general, convenience is very important to the My Junior Sienna combi stroller. The multifunctional and spacious sports seat of the Sienna offers your heart plenty of space to feel the maximum comfort in every position.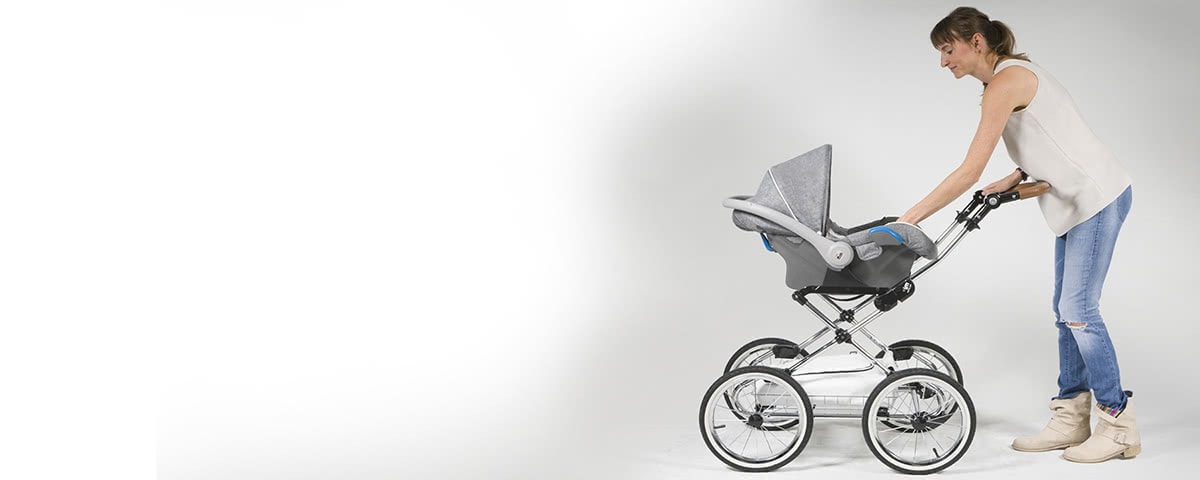 The versatile travel system
The combination of stylish retro design and the latest technology make the My Junior Sienna something very special. All attachments can be mounted on this model, so that you do not have to forego the advantages of modern combination strollers. The baby seat and all others can also be set in the desired direction of travel so that you can keep an eye on your heart while driving or let it discover the world.
The rounded bottom offers you the possibility to rock your little child carefully to sleep. As soon as it closes its eyes and arrives in fairytale dreams, the setting of the rest position ensures the necessary harmony.
Schweben wie auf Wolke 7

Die Federung des My Junior Sienna wurde durch zahlreichen Optimierungs- prozesse perfektioniert und bietet Deinem Sonnenschein und Dir ein ganz besonderes Fahrerlebnis. Egal ob bei Einkaufstouren in der Stadt oder auf Wald- und Feldwegen über Stock und Stein - Dein Schatz ist sicher in diesem Kombi- kinderwagen aufgehoben und merkt von den Hindernissen nichts.

Leicht zum Mitnehmen

Die Babywanne des My Junior Sienna zeichnet sich nicht nur durch ihr schickes Design aus, sondern auch durch ihre besondere Leichtigkeit. Der Griff an der My Junior Babywanne macht das Tragen zu einem Kinder- spiel für Dich. Zudem kann die Babywanne auch als Schaukel verwendet werden, die Deinem Schatz hilft, den Weg ins Land der Träume zu finden. Wird die Schaukelfunktion nicht mehr gebraucht, kannst du die Babywanne in die Ruheposition versetzen, um deinem Glück die notwendige Ruhe zu verschaffen. Der My Junior Sienna kommt mit einer geräumigen Wickeltasche in schickem Design passend zu ihrem zeitlosen Kombikinderwagen inklusive einer praktischen Wickelauflage. Auch Moskitonetz wie Regencape sind im Paket des My Junior Sienna enthalten, sodass Du und Dein Glück auf alle Witterungen vorbereitet seid.
Ausstattung
Aluminium Chassis
Große Babywanne
Matratze mit 100% Baumwollbezug
Abschließbarer Einkaufskorb
Multifunktionale Abdeckung
1. Aluminium Chassis
+ Demontage der hinteren Achse per Klickmechanisumus
+ Sicherer Stand durch zentrale Feststellbremse
+ Arretrieungsmechanismus im zusammengeklappten Zustand
2. Babywanne inklusive Fußsack und Matratze
+ Bezug aus 100% italienischer Baumwolle.
+ Ergonomisch verstellbare Kopfstütze.
+ Optimales Klima durch einen großen Luftschlitz.
3. Innovative Federung
+ SAS (Shock Absorption System) für jedes Terrain
+ Vorderreifen zusätzlich gefedert
4.Geschlossener Einkaufskorb
+ Schutz vor Diebstahl
+ Sichert deinen Einkauf vor Spritzwasser

5. Multifunktionale Abdeckung
+ Gepolsterte Abdeckung
+ Nutzbar als Wickelunterlage
6. Sportsitz
+ Ergonomische Rückenlehne.
+ Verstellbare Rückenlehne bis in die Liegeposition.
+ 5-Punkt Sicherheitsgurt.
+ 3-lagig gepolsterte Stoffe für höchsten Schutz und Komfort
7. Sportsitzeinlage
+ Abnehmbare und waschbare Einlage
+ Atmungsaktive Textilien
8. Luftreifen
+ Robuste Mäntel als Schutz für den Luftreifen
+ Optimale Unterstützung der Federung
+ Tiefes Profil für besseren Halt
9. Fußsack
+ Allwetterschutz gegen Wind und Wetter
+ 3-lagig gepolstert
10. Rucksack / Wickeltasche
+ Geräumig mit vielen Fächern
+ Leichte Anbringung am Gestell
11. Regenschutz
+ hochqualitativer Regenschutz
14. Moskitonetz
+ schützendes Moskitonetz
15. Multi-Adapter Babyschale
+ Zur Anbringung der Babyschale auf dem Gestell
+ MaxiCosi, Cybex, Kiddy etc. kompatibel
16. Babyschale Safee
+ ECE R 44/04 geprüft und zertifiziert
+ Neugeboreneinsatz mit Keilkissen aus 100% Baumwolle
+ Für Babys bis 13 kg
Funktionales Design im Detail
Klicke eine Komponente Deines Glückbegleiters an, um mehr Informationen zu erhalten
Gestell
Stabiles Kinderwagen X-Gestell
Zusammenfaltbar mit Sportsitz oder Wanne
Einfacher Faltmechanismus
Höchster Fahrkomfort durch Allrad-Federung
Abnehmbare Kinderwagen Luftreifen
Sichere Feststellbremse
Geschlossener Kinderwagen Einkaufskorb
Einfaches Klicksystem der Aufsätze mit Memory Funktion
12-fach höhenverstellbarer Schiebegriff aus Vegan Leather
Inkl. passender Wickeltasche, Moskitonetz, Regencape uvm.
Tischkantenhöhe
Alle Verdecke mit Lichtschutzfaktor UV 50+, schmutz- und wasserabweisend